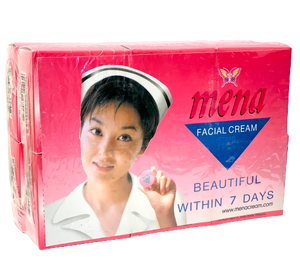 Mena Face Cream Pink 3g, (12pcs) distributed by Sunrise
Mena Face Cream (Pink) 3g, 12pcs
Mena facial cream has been the best buy when it comes to beauty products. Women from all walks of life enjoyed the benefits of the product. The cream is rich in pure vitamin E and antioxidants. These two important ingredients work together in keeping the skin acne-free, spotless, and blemish-free. Grab your 3-gram jar of Mena Facial Cream now.
About Mena Cosmetics Co. Ltd.
Mena Cosmetics is a company in Thailand founded in 1992 and offers only one product to the market, the Mena Facial Cream. The product immediately gains popularity throughout Southeast Asia, the Middle East, and Africa. Today, Mena Cosmetics has various products available for every woman's beauty care needs.
---