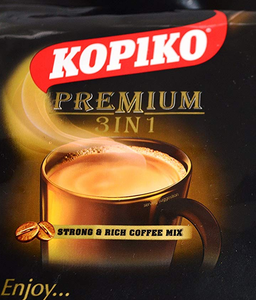 Kopiko 3 n 1 Premium Coffee (30pcs) distributed by Sunrise
Kopiko 3 n 1 Premium Coffee 30pcs
opiko is an Indonesian coffee company known for the highest quality coffee candy, and now we got a shipment of their new instant coffees.
The 'Premium' version has rich coffee flavor combined and it's mildly sweetened with sugar.  
Kopiko instant coffee is similar to INNA Thai instant coffee, but with a more bold, true coffee flavor.
---